Ambuja cement does not need any introduction in the field of construction, nowadays. It has already proved the mettle of its excellence in the domestic as well as international market. The cement is acknowledged for its high strength, high performance Ordinary Portland Cement (OPC) along with Pozzolana Portland Cement (PPC). OPC and PPC both are high class active hydraulic binders plus are preferred brands in the market for all the building applications. The company at present has a manufacturing capability of 29.65 million tonnes.
Innovation:
The brand of Ambuja Cement since its inception – has facilitated it to develop technology to manufacture cement of consistent quality from various raw materials. About twenty five per cent of the company's production of high strength Portland Pozzolana Cement (PPC) makes use of fly ash – a waste formed in thermal power plants – as raw material. PPC at present constitutes 93 percent of the company's product range.
Ambuja was the first to bring in 53-grade cement in the market. Through benchmarking quality standards for the industry, it became the first cement company to obtain the ISO 9002 quality certification.
All the way through use of state-of-the-art technology plus strong thrust on research as well as development, Ambuja Cement has build up products to cater to its 3 customer segments – Individual House Builders, Masons along with Contractors, and Professionals.
Former Introduction:
Ambuja Cements Limited, in the past known as Gujarat Ambuja Cement Limited, is actually an Indian major cement producing corporation. The Group markets cement as well as clinker for both domestic and export markets.
Features:
• Least Compressive strength at twenty eight days is more than 53 MPa – Economical Building.
• Reliable Quality.
• Enhanced Workability.
• Dense micro construction (High Strength)
• High chemical resistance (chloride diffusion, sea water, sulphate attack, and so on.)
• High long term Strength.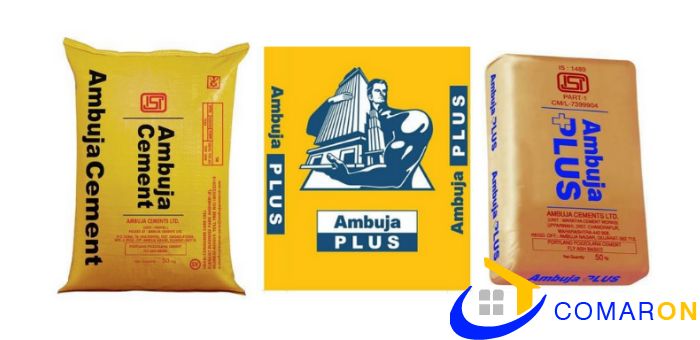 | | | |
| --- | --- | --- |
| Product | Min Price | Max Price |
| Ambuja Cement Price | Rs 350/Bag | Rs 370/Bag |
| Ambuja Plus Price | Rs 360/Bag | Rs 375/Bag |
Ambuja Cement grade:
Cement PPC 53 Grade.
Packaging Size: 50 Kgs.
Uses of ordinary portland Ambuja cement:
It is employed for general construction functions, where special properties are not required similar to reinforced concrete buildings, bridges, etc. Also, it is used in most concrete masonry units. Furthermore, it is also used as a basic constituent in mortar, plaster, plus non-specialty grout.
Portland pozzolana Ambuja cement PPC:
PPC is a kind of blended cement. PPC as per BIS code is corresponding to that of 33 grades. In view of the fact that the pozzolanic material reacts with calcium hydroxide liberated by means of the hydrating Portland cement along with forms cementatious compounds, PPC creates the concrete more impermeable as well as denser.
What is Ambuja PPC cement grade?
PPC grade cement is a kind of Portland cement characterized by the attendance of pozzolana particles similar to fly ash, volcanic ash which is put in to OPC in the ratio of 15% to 35%. The cement is accessible in any specific grades. It is finer as well as less dense than OPC.
Is PPC Ambuja cement good?
PPC produces extremely durable concrete because it has low water permeability contrasted to OPC. PPC has low preliminary setting strength compared to OPC however hardens over a period of time by way of proper curing. And PPC is cheaper also judged against to OPC.