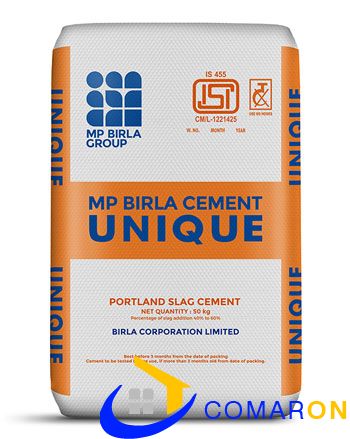 Birla Corporation Limited is the leading Company of the M.P. Birla Group. United as Birla Jute Manufacturing Company Limited in the year 1919, it was in fact Late Mr. Madhav Prasad Birla who provided shape to it. As Chairman of the Company, he changed it from a manufacturer of jute goods to a principal multi-product corporation with extensive activities.
Cement Division
They manufacture varieties of cement similar to Ordinary Portland Cement (OPC), 43 and 53 grades, fly ash-based PPC, Portland Pozzolana Cement (PPC), Low Alkali Portland Cement, Low Heat Cement, Portland Slag Cement (PSC) and Sulphate Resistant Cement.
The cement is marketed under the product names bringing the product under the common trademark of M P Birla Cement.
MP Birla Cement RAKSHAK

PERFECT PLUS

ULTIMATE ULTRA

SAMRAT ADVANCED

UNIQUE

SAMRAT

ULTIMATE

CHETAK,

PSC

MULTICEM

CONCRECEM
Cement Brands
MP Birla Cement Rakshak
It is the most premium as well as superior water repellent cement to have been propelled by MP Birla Cement. Composed of extremely reactive clinker along with tailor-made hydrophobic grinding aid, Rakshak promises a unique amalgamation of improved strength and humidity resistance, right from the base to the roof.
Perfect PLUS
PERFECT PLUS is a premium quality specifically engineered PPC Cement from the house of MP Birla Cement for particular applications of Foundation, Pillar and Roofing works. The product technology has numerous advantages in improving performance as well as life of the concrete.
Samrat Advanced
In Samrat advanced the chemical raw mix is planned in such a way to have low level of alkali content hence ensuring cement to escape Alkali- Aggregate reaction which gives advanced durability.
Ultimate Ultra
MP Birla Cement Ultimate Ultra is high-quality pozzolanic cement which comes with an assurance of superior performance. It has achieved the faultless balance between strength and beauty.
Samrat
The right mixture of Portland cement clinker, fly ash, in addition to gypsum makes the product strong, long-lasting, and ideal for all kinds of construction.