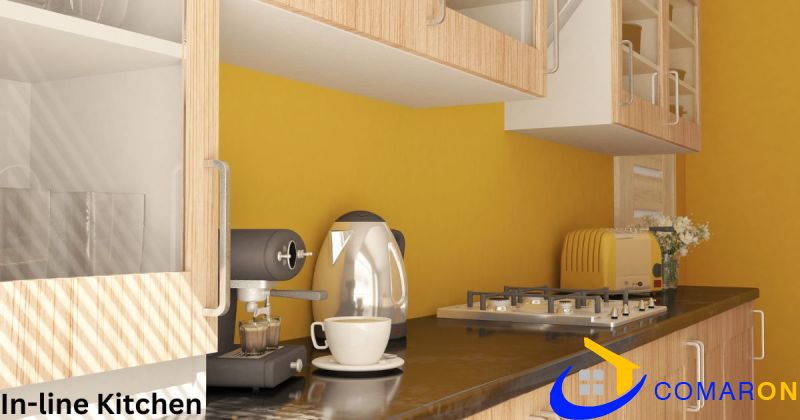 Image by kjpargeter on Freepik
In-line/one wall modular kitchen
One-wall modular kitchens, also known as in-line modular kitchens, are highly functional and straightforward layout that is ideal for studios and small apartments. They save space and cost, and all kitchen components are positioned along a single wall, making it easy to move around and cook. In-line modular kitchens can also serve as secondary kitchens in larger apartments.
Notable Features of One-Wall Modular Kitchens
Straight modular kitchens come with a variety of features designed to enhance the cooking experience. For example, incorporating sliding or pocket doors can optimize storage space and minimize clutter. The work triangle, consisting of the sink, stove, and refrigerator, is a crucial design element in one-wall modular kitchens. Placing these appliances in a manner that allows easy movement between them ensures efficiency in the kitchen. Incorporating a dining table within the straight modular kitchen design can foster interactivity and create an inviting atmosphere.
Advantages of Straight Modular Kitchens
One-wall modular kitchens exude elegance and style, offering a delightful cooking experience. Efficient space management is a key advantage of straight-line kitchen designs. They provide ample storage space without sacrificing aesthetics. Modular kitchens, when intelligently utilized, can significantly enhance practicality, making them an excellent choice for any home.
Considerations for Designing a One-Wall Kitchen
Straight modular kitchen designs are not only visually appealing but also highly practical and user-friendly. Although the design of a kitchen is not set in stone, maintaining cleanliness can be achieved by utilizing high-quality materials and focusing on functionality in modular kitchens.
Essential Factors in Designing a Straight Kitchen
Budget: This is the most important factor in a one-wall kitchen. It allows for a wide selection of furniture materials that align with your preferences and financial means.

Layout: You can personalize the layout of your kitchen or get expert advice to optimize functionality.

Material: When choosing materials for your modular kitchen, consider options such as wood, marble, and granite, selecting the one that best suits your needs and budget.
Get various attractive modular kitchens on all budget at Comaron