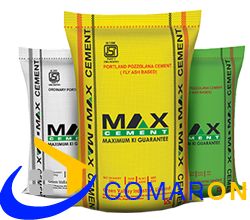 Born out of a simple dream to support the foundation of our great nation, Max Cement has grown as the ultimate choice for constructing the North East India. The brand claims of premium quality as well as comes with the assurance of 3S – Strength, Setting plus Stability, which renders the seamless foundation to any building.
In its constant effort to bring out the best in excellence and still be competitive in expressions of affordability, this cement ensures that you do not negotiate in your choice. The group understands the significance of every construction and so its mantra has always been to give you the faultless compositions made with the finest quality raw materials as well as technology.
The cement plant at Nongsning, Meghalaya derives with a capacity of approx. one million tons for every annum. Its close vicinity to high-grade limestone mines offers the product a unique edge over its opponents. The plant makes use of state-of-the-art German expertise and Japanese technology in manufacturing greater grade cement which exceeds the elementary BIS requirements by noteworthy margin.
Max Cement's brilliant quality and pledge to deliver "MAXIMUM KI GURANTEE", has been acknowledged as well as awarded repeatedly.
Products:
Portland Pozzolana Cement (PPC) is a type of Blended Cement which is formed by either inter-grinding of OPC clinker in the company of gypsum and pozzolanic materials in definite proportions or grinding the OPC clinker, gypsum as well as Pozzolanic materials separately and systematically blending them in definite proportions.
The PPC is the most popular type of Max Cement which is manufactured through proper blending of very high class of raw materials. It is manufactured with proper blending of very high class raw materials. The pozzolanic materials are obtained from prestigious thermal power stations as well as are processed under very strict quality assurance process to yield the finest quality of PPC Cement. This cement is ideally suited for the all kind of RCC construction together with construction of hydraulic structures, masonry mortars, plastering, mass concreting works and many more applications. It is likewise the mostly used range of cement across the globe.
OPC naturally means Ordinary Portland Cement. This is ordinary concrete used for numerous purposes. PPC means Pozzolanic Portland Cement. These Pozzolans are siliceous material which can be added to concrete mixtures, possibly lower the mix cost without hurting the performance characteristics.
Max OPC is the most prevalent general-purpose cement in the country nowadays. The production of OPC is approximately 50% of the total production of cement in the nation. Max OPC is primarily used for civil engineering construction work; precast as well as pre-stressed items for example concrete blocks, tiles, pipes in addition to asbestos products like sheets, pipes plus non-structural works such as plastering as well as flooring.
It has three forms of OPC Cement:

Visit for TMT Steel Bar Size for Construction