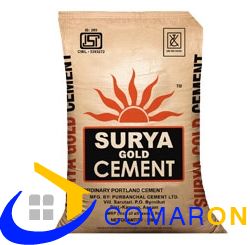 Surya Cement: Illuminating Lives with Strength
Purbanchal Cement Limited is one of the most sought-after group of companies in Eastern India, containing an integrated cement manufacturing unit at Sonapur, Kamrup (Assam).
Promoted by the foremost lights of the Indian Industry, this group has been delivering finest quality cement contributing to the development of infrastructure in India, persons, commercials and others with their reliable quality and services.
Its brand Surya Gold Cement and Surya Concretec are identical names in the building material industry, and it is its aspiration to become the most prestigious and preferred brands in the market it functions.
| | | |
| --- | --- | --- |
| Brand | Grade | Price |
| Surya Cement | Surya Gold Cement | Rs.410 - Rs460 |
Products:
Portland Pozzolana Cement (PPC)
PPC is a type of mixed cement which is processed by clinker, 15-35% pozzolanic as well as 4% gypsum material. According to BIS, PPC is 33 grade cement. It makes the concrete more impermeable and dense by reacting by calcium hydroxide freed through the hydrated as well as forming cementatious compounds. It can be securely employed in the building of hydraulic constructions, mass concreting, marine works and applications. It forbids the alkali-aggregate reaction in concrete.
Exclusive Features of PPC Cement:
The water cement reaction yields strength giving compound as well as calcium hydroxide. Pozzolana of PPC reacts thru calcium hydroxide and produces extra strength giving compound. This on-going reaction increases the strength as well as durability of construction.

Due to advanced fineness, PPC produces additional strength giving compounds and hence results in increased water-tight (Impermeable) buildings.

Water - PPC reaction changes least heat. Higher heat evolution grows higher temperature gradient producing strain and cracks even in new buildings.

Addition of fly ash in PPC removes the hazard of alkali - silica (aggregate) reaction which outcomes in growth of expansive forces causing cracks as well as weakening of concrete.
OPC (Ordinary Portland Cement)
OPC is a product received by intimately blending together calcareous (chalk, lime etc.) as well as argillaceous (shale, clay etc.) with or without other raw materials having alumina, silica or iron oxide, and burning at a high temperature and ultimately grinding the resulting intermediate product "clinker" by predetermined proportion of gypsum.
According to BIS guidelines, diverse kinds of OPC are encompassed under IS269-2015. It has been possible to upgrade the qualities of cement through using high quality limestone, up-to-date equipment, and closer on line control of components, preserving better particle size distribution, finer grinding as well as better packing.
Application Areas:
RCC functions (if possible where grade of concrete is M-25 and above)

Precast items like tiles, blocks, pipes, poles, sleepers etc.

Precast items like tiles building block, paving blocks etc.

RCC functions (if possible where grade of concrete is M-30)

Concrete roads, runways, bridges etc.

Asbestos products like sheets and pipes
Visit for Durgapur TMT Steel Price