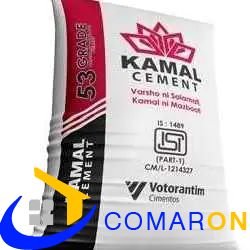 Kamal Cement: Blooming in the Industry
As the name suggests, Kamal Cement stands like a blooming lotus in the throng of all cement brands. Its matchless features make it unique in the entire construction industry. SHREE DIGVIJAY CEMENT CO. LTD. has been a sole trendsetter in offering the finest class of ordinary and special Portland cement. It has a Gujarat-wide network of more than 1000 channel partners selling its cement under the product name "KAMAL CEMENT".
KAMAL Cement, Worldwide Brand, Incredibly Trustworthy
The cement standing strong since past 7 decades carves out the long proud heritage of building the nation by producing Superior Quality Cement. In the present day, it is one of the most practised cement producing companies in India.
Also Know about Stone Dust for Construction price
Product Portfolio:
PPC Cement
It is a top class Portland Pozzolona Cement produced with regards to IS 1489 (Part 1). This revolutionary product has top class Pozzolona particles to provide greater reactivity.
The high reactive silica (HRS) in the cement helps to offer the most optimised workability with low heat of hydration and a Water/Cement ratio to confirm denser concrete for permanence, strength, and the longest service life for your dream buildings.
OPC Cement
This OPC Cement is 53 Grade Portland cement produced with regards to IS 269: 2015. This finest quality cement comes with high compressive strength and low C3A content, which is perfect for all major RCC and PCC works.
This cement's low Magnesia and minor Chlorides content makes your concrete crack and corrosion resistant, guaranteeing ever-lasting shield to your dream buildings.
SRPC Cement
This SRPC Cement is Sulphate Resisting Portland Cement produced with regard to IS 12330. This super class premium cement comes with a High Sulphate Resistivity Composition to provide absolute protection from the most corrosive sulphate attacks of humidity and alkaline air in the atmosphere.
It is the most perfect cement for coastal buildings and all PCC and RCC under-ground buildings, making your foundations stand firm and solid.
OIL WELL Cement:
This is a key specialty product for the group. It is among the top cements available for cementing offshore and onshore wells under high pressure and temperature. It is HSR cement. It is premium class cement for the oil and gas industry, perfect for all off-shore and on-shore oil well cementing solutions.
Cement Ka Sardar:
It is a special cement through which the expectations of a consumer are fulfilled, wherein they dream of building their houses with a particular premium class cement that is the finest crack free cement. This product comes with six particular advantages, which contain:
High Early Strength

Quick Setting Interval

Resistant to Chemical Attack

High Toughness

Eco-Friendly Green Cement

Greater Cohesion
These six special features create the product – an active contributor to providing a guard of protection against the hostile Climate Impact on the concrete. And the Separate House Building Customers get a long-lasting construction in all the years to come.
Also know about Dalmia Cement Price