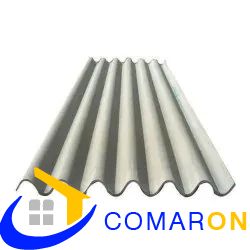 Cement Roofing: Protection of Roofs
Cement roofing sheets protect the roof of your house up to a great extent. They are made from premium quality cement and fibre through an exclusive fibre mesh technology. The production method undergoes laborious quality control systems presenting you a product with long lasting value.
Know More about Cement Price
How are cement roofing sheets prepared?
For making wavy sheets, weighed quantity of the fiber is drenched in water for some time which is blended with pressed quantity of cement methodically. The cement covered mixed stuff is homogeneously spread on the drag mould as well as is pressed by hydraulic press.
Cement Roofing Sheets Price is between Rs.255 - Rs.350 per Meter
There are many players active in the segment of cement roofing. Nevertheless, a few of them stand out prominently due to their unique features. Their description is as follows:
Charminar Cement Roofing:
Charminar Cement Roof Special is distinct quality with advance technology. It is one the best in cement roofing technology and big brand for its quality These sheets offer both strength as well as productivity compared to metal roofing sheets and are the impeccable choice for Textile, Pharmaceutical, Paper & Pulp, Chemical & Fertilizers, Oil Manufacturing, Dairy & Poultry farms, Bus Sand and Railway Stations.
Ramco Cement Roofing:
Ramco Greencor is an incredible roofing product, produced thru European Technology as well as specially developed (PVA), Poly Propylene Fibers to provide the world its initial perfect industrial roofing sheets. These sheets are absolute asbestos-free. Their exquisite features are as follows:
Enhanced Productivity: Plant level producing output reacts negatively to high temperatures. The magnitude of losses is economically important. It ensures a better working atmosphere.
Keeps interiors cool: It has a very low thermal conductivity which outcomes in lower conductance of cold or heat. It keeps inner temperature cooler as compared to ambient temperature.
Zero Noise Pollution: Contrasted to metal roofing sheet, it guarantees calm and quiet atmosphere.
Strength: It has a long life of up to 50 years and is maintenance-free as well as trouble-free.
Chemical Resistance: It has outstanding chemical resistance and is a supreme choice for Chemical Plants along with Oil Manufacturing Facilities.
These non-asbestos roofing sheets are a GreenPro qualified product from CII-Green Products and Service Council. This GreenPro is a mark of guarantee which the product that bears this label is environment-friendly all through its life cycle.
Everest cement roof sheet:
Everest cement roof sheet, it is a premium offering from Everest Industries that meets global standards created as a result of its wide-ranging R&D process individually designed to generate strong lasting concrete structures by high tensile strength.
With a best in class backed by international research & development this Everest cement roof sheet provides a faultless balance of optimum best in class properties making it a dedicated product for concrete structures.
ACC Cement Roof:
ACC Cement Roof is the merely one of its kind, specifically formulated cement thru high quality water repellent properties. It is a result of microscopically controlled process changes under justifiable environment along with alterations in the input raw material dosage in order to acquire the looked-for water repellent properties.
Visit for Building Material List