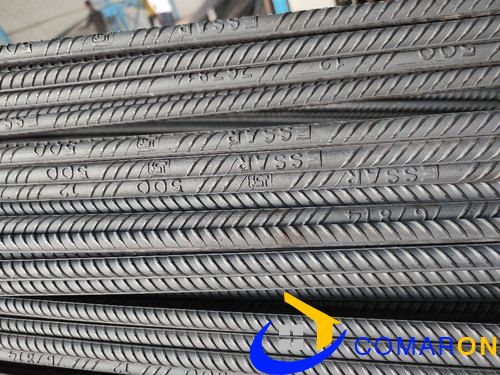 Stecol International Private Limited (SIPL) is in the trade of TMT bars by Essar TMT as its leading product. SIPL has the capacity as well as capability to deliver TMT rebars of grades FE 500, FE 500 D & FE 550 in several sizes from 8 mm to 40 mm. Its TMT product is available with embossing of "ESSAR" on each rebar at distance of three meters, supplemented with necessary test Certificate(s) of the same.
Essar TMT bars are manufactured in cutting-edge process plants in India as well as are BIS-certified conforming to IS 1786 stipulations for Fe 500 along with higher grades. The product is tested as well as certified by SGS India Private Limited and emerges with the assurance of quality which is the hallmark of the Essar brand.
Essar Steel TMT bars price list:
| | |
| --- | --- |
| Essar Steel TMT bars 12mm | Rs 53,240 / MT |
| Essar Steel TMT bars 8mm | Rs 56,490 / MT |
| Essar Steel TMT bars 16mm | Rs 54,640 / MT |
| Essar Steel TMT bars 10mm | Rs 56,070 / MT |
| Essar Steel TMT bars 20mm | Rs 54,170 / MT |
| Essar Steel TMT bars 25mm | Rs 54,170 / MT |
Which grade TMT bar is worthy for construction?
All TMT bars are worthy for construction, nevertheless their diverse steel grades suit diverse types of structures. Fe 415 TMT bars are decent for houses, Fe 500 is perfect for commercial structures, Fe 550 are for bridges and other marginally large-scale structures, in addition to Fe 600 are for big industrial projects.
Which is better TMT 500D or 550D?
Similarity as well as difference between 550D and 500 TMT rebars!

In the Fe 500D, the word "Fe" denotes Iron,"500" stands for the smallest yield stress in N/mm2, while the letter "D" means that these bars have greater values of ductility (higher UTS/YS and % Elongation).
Who is proprietor of Essar?
Founder: Shashi Ruia, a first-generation businessperson industrialist, has made priceless contributions to the core industrial along with infrastructure sectors in India and has directed Essar to a noticeable position in the worldwide industry.
Which is better Fe500 and Fe500D?
Even though both Fe500 and Fe500D TMT bars are the unsurpassed TMT bars for structure projects, the Fe500D TMT bars undoubtedly comes with a superior ductile strength in contrast with the Fe500 TMT bars. The Tensile power of steel remains the similar for both these products. Nevertheless, it is the general ductility that creates all the difference.
Visit for Cement