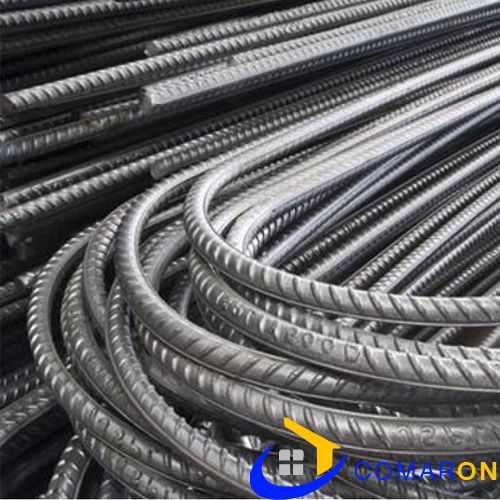 Shreeyam Power and Steel Industries Ltd. came into inception in the year 2005. It began to operate its functions in the name of Mid India Power and Steel Industries Ltd. The company primarily manufactures structural steel long products together with – TMT Bars, Beams, Channels, Angles and Stainless Steel Flats. Its TMT bars are available under the brand name of National TMT.
National TMT steel Saria Rate list:
| | |
| --- | --- |
| National TMT steel Saria price 12mm | Rs 57,575 / MT |
| National TMT steel Saria Price 8mm | Rs 59,890 / MT |
| National TMT steel Saria Rate 16mm | Rs 57,375 / MT |
| National TMT steel Saria Rate 10mm | Rs 57,895 / MT |
| National TMT steel Saria Rate 20mm | Rs 58,100 / MT |
| National TMT steel Saria Rate 25mm | Rs 58,100 / MT |
Better Wed ability: Lower Carbon content in the TMT guarantees superior weld ability as compared to the traditional cold twisted bar.
Bending: The hard external surface and soft core of the TMT outcomes in rebar with outstanding bending ability. The bar can be bent around the mandrels which are much smaller as compared to those specified in IS 1786. This results in improved speed at the sites.
Superior Bond Strength: The TMT incorporates ribs which are cut by the automatic rib cutting machines producing identical ribs. This results into the bars which possess an excellent bonding with concrete.
Greater Corrosion Resistance Characteristics: These TMT bars are being manufactured through Tempcore (CRM Belgium) process. Thus, there are no torsional residual stresses in the bars. This results into a better corrosion resistance property.
Close Dimensional Tolerance: These bars come with an optimum section weight, which is lower than the nominal. Improved Seismic Resistance Properties: Concrete beams, joints and columns reinforced with these bars are subjected to a recurrent reverse loading in elastic strains to assess the performance. Hence, they simulate conditions which are similar to an earthquake. The TMT bars in these tests have been proven for preserving homogeneity and ductility till failure.
The TMT Tempcore Process:
Quenching
In the initial stage, the procedure begins with the hot rolled bar leaving the final stand and suddenly being quenched by a particular high pressure water spraying system. The process outcomes in formation of "Martensite" on the external surface of the bar, at the same time as the core remain austenitic.
Self-Tempering
In this stage, the bar leaves the water quenching box and is revealed to air. The heat flux from the still hot core re-heats the external surface of the bar. The Martensite formed in the initial stage is hence, subjected to self-tempering providing a structure known as "Tempered Martensite", which is firm and hard. The core is still austenitic at this phase.
Atmospheric Cooling
The 3rd and final phase occurs on the cooling bed, where the austenitic core is changed into the ferrite pearlite ductile core. The final structure, hence, consists of an amalgamation of the strong external layer of tempered martensite along with a ductile core of ferrite-pearlite.