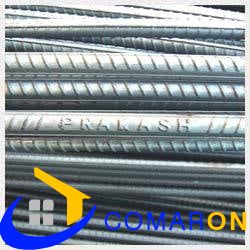 Prakash Industries Ltd was established in the year 1980 with a dedicated vision in the core competence zones of Mining, Steel and Power. It is quickly carving its niche in the Indian steel industry, and has materialized as one of the key manufacturers of value added steel products in the nation. For highest value addition, the company has continuously laid emphasis on forward and backward integration. The business has stayed well associated with economic trends and the market requirements in the country, a result of which has been brilliance in a diverse range of products, quick growth, strong financial foundations as well as a bright future outlook.
Prakash TMT steel bars price list:
| | |
| --- | --- |
| Prakash TMT Steel 12mm | Rs 56, 450 / MT |
| Prakash TMT Steel 8mm | Rs 59, 700 / MT |
| Prakash TMT Steel 16mm | Rs 57, 650 / MT |
| Prakash TMT Steel 10mm | Rs 58, 750 / MT |
| Prakash TMT Steel 20mm | Rs 57,450 / MT |
| Prakash TMT Steel 25mm | Rs 57,450 / MT |
TMT Mills
Prakash TMT Bars score high on strength as well as ductility, which are the chief parameters required by Civil Engineers. Such a blend allows engineers and designers to decrease consumption of Steel in structures and yet, be guaranteed about their safety as well as strength. With rising demands of TMT Bars by reason of substantial increase in construction as well as infrastructure projects in the nation, Company has also set up a TMT mill with greatest advance technology equipment to manufacture high excellence TMT bars to further improve its product range.
"No Twist Block Technology" has been used in this mill to continue best outward finish and other desired features in the TMT bars.
Established TMT Rolling Mill with newest technology equipment at Raipur.

Manufacturing TMT bars of dimensions

8 mm to 32 mm.

Consuming "No Twist Block Technology" to make the product constant, uniform and free from any type of scale.
Visit for Cement Price