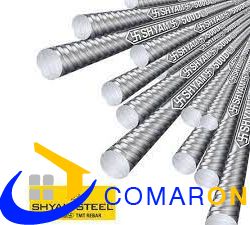 Shyam Steel: Building the Nation through Strength
Whenever you go across any ongoing construction site, long, round iron rods are conspicuously visible almost everywhere. The very first question strikes in your mind. When cement, sand and other constituent materials are already available for providing strength to the structure, then what is the use of these rods? Actually, these rods are TMT steel bars and possess high fatigue resistance to dynamic/seismic loads as a result of their higher ductility. This makes them most appropriate for use in earthquake-prone areas and very reasonably priced.
Visit for Shyam TMT Steel Price
TMT steel bar has acclaimed a big market in Indian economy. This market share is predicted to magnify by 153.02 million tons between 2021 and 2026, through a CAGR of 3.50%.
Shyam Steel Introduction:
Founded in 1953, Shyam Steel Group is one of the primary TMT Bar Manufacturer and Suppliers in India, assembling TMT bars, Billets in addition to Sponge Iron. The whole group is guided by a philosophy to yield safe and sustainable steel; it is a forerunner in class production of steel.
Reason of Popularity:
The Journey:
Shyam Steel has time-honored itself as one of the principal TMT Bar creators in the country. Its forefather, Sri Shriram Beriwal had visualized of building an inheritance in the manufacturing industry in the nation. In 1953 he actually laid the foundation of Shyam Steel thru a small factory in Howrah. Far ahead, he was united with his younger brother Shyam Sunder Beriwala. Their guidance contributed to Shyam Steel's world-class expertise, quality control, and wide-ranging professionalism, which empowered the company to meet the rigid requirements of its presumed customers both in India and abroad. Functioning for over six decades and at the present an INR 30 billion group, the company has emerged as a large, emergent, competitive and multi-product steel organization via delivering quality material through revolution, excellence, and commitment.
TMT Bar Features:
Shyam Steel's TMT bars come with a chain of inherent advantages resembling to consistent quality along with unvarying grades, dimensions as well as tolerances. It also comes with higher stability, properties for greater durability along with easy workability. Its integrated steel plant in Durgapur holds DRI Unit, Continuous Billet Casting Mill, SMS Unit(EAF), sophisticated Rolling Mill as well as fully-equipped Testing laboratories – everything under one roof. The Company has acquired ISO – 9001, 14001 and OHSAS 18001 certifications.

The company is offering an extensive range of construction steel. Its collection of TMT Re-bars avails the intermittent need of a civil engineer. The series of Structural Steel offered by the corporation meets the supreme demands of the engineering sector.
TMT Bars Fe 500D
Great Strength for Critical Applications
These bars Fe 500D is an exceptional grade of TMT Re-bars formed under explicit process conditions resulting in amplified strength as evaluated to other grades of TMT Rebars. These Rebars are idyllic for applications in heavy load RCC structures resembling flyovers, dams, bridges and other critical edifices where high yield load (design load) is vital without bargaining on the ductility. Apart from the features of these Steel TMT Re-bars show the following characteristics
Special Weldability
Higher Corrosion Resistance
The skilful thermo mechanical treatment also marks in a homogeneous and thick tempered martensitic rim, entirely free from internal stress. This martensitic rim advances the corrosion resistance along with fatigue strength of this Re-bars Fe 500D once compared to other TMT Re-bars.
Turnover:
â?? The company plans to double its turnover to Rs.900o Crore in the coming three years. It has already attained a turnover of Rs.4500 in the Financial Year 2021-22.
â??
â?? The group director Keshav Beriwala stated that the management would pump in Rs.1500 Crore to establish a 0.35 million tonnes per annum plant to assemble TMT bars in West Bengal and has by now acquired 600 acres of land for the state government in order to cater to this purpose.
â?? In addition to this, the company would also ramp up the capacity of its existing plant in Durgapur from the current 0.7 million tonnes every annum to 1 million tonnes every annum.
Certification
Shyam Steel Re-bars have been verified at a number of prestigious national institutes such as IIT Kanpur and National Test House, under genuine service conditions. The field data attained in actual service condition proves its durability contrasted to other TMT Re-bars.
Advantages
No extra precaution is required in material handling as well as transportation

No further preparation for storing or working at the site

No preservation for the duration of fabrication

Effective at poor site conditions

Life expectancy cost-benefit

No additional precaution all through the welding
An Honoured Presence throughout India
These CRS TMT Re-bars have been employed in projects like
NTPL Tuticorin TPC, Tamilnadu

Kerala Water Board Project

Paradip National Highway, NHAI

Indian Oil Corporation Ltd, Haldia

Haldia Port National Highway, NHAI

Kandla Port Trust

Reliance KG Basin

JNPT IOCL Terminal

Apgenco Krishnapatnam TPS

Mahegenco Bhuswal TPS Expansion
Shyam CRS TMT Rebars are perfect for
Highways and Flyovers Construction

Oil and Gas Exploration Sites

Ports and Jetties

Dams and Bridges

Thermal and Hydel Power Station

Hazardous Area Construction

Industrial Structures

Shyam Steel is one of India's prominent TMT Bar, Billets, as well as sponge iron producers. The brand has turned out to be very noticeable among builders. Its consumers consider the brand to have the finest construction materials of the most exceptional quality.

The brand is projecting in many cities, as well as you can get your hands on the unsurpassed TMT material in Orissa without negotiating quality. Its products are highly trusted as well as loyal to its customers, delivers the best building construction material in Orissa, as well as are highly particular in maintaining paramount quality.
The brand is getting similar responses in other parts of India and expects to be more eye-catching in the TMT industry nationwide.