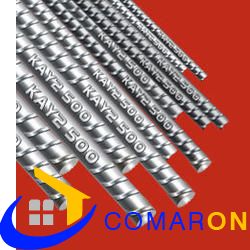 KAY2 Steel, since its foundation in 2012, has demonstrated unparalleled advancement in manufacturing high-quality building TMT bars. By integrating world's top technologies and manufacturing processes, the Steel has become the most trusted trademark in the steel bar segment. The company is transforming the landscape of India with its modernizing construction products and strategically distinct business model.
Why KAY2 Steel:
The vision of the group is to firmly place India on the international construction map shaped by the commitment to gain society as well as care for its employees. The company offers high-quality products and services to its customers worldwide at a reasonable price. Backed by forward-looking technology and contemporary equipment, its team of expert drives the actionable insights into pioneering solutions to create value for clients and instill brand confidence. The Company's superior lab, up to date equipments, trained technicians, in addition to Quality Assurance Department work cohesively to keep an eye on the processes and material to make it seismic resistant as well as present the best of the Steel for its customers to use.
Kay2 TMT steel bars price list:
| | |
| --- | --- |
| Kay2 TMT Steel 12mm | Rs 56, 540 / MT |
| Kay2 TMT Steel 8mm | Rs 59, 570 / MT |
| Kay2 TMT Steel 16mm | Rs 57, 560 / MT |
| Kay2 TMT Steel 10mm | Rs 58, 570 / MT |
| Kay2 TMT Steel 20mm | Rs 57,540 / MT |
| Kay2 TMT Steel 25mm | Rs 57,540 / MT |
Is KAY2 and kamdhenu similar?
Brand Kay2 is in fact the brain child of Mr. Sunil Kumar Agarwal, director of Kay2 Steel as well as founder director of Kamdhenu Ispat Ltd, which was considered to fulfill the mounting demand for high-quality TMT bars in India.
Is KAY2 steel excellent?
KAY2 TMT bars is one of the most reliable TMT bars (Steel for recent engineering) marketed under the brand name "KAY2 TMT Bars". Globally recognized manufacturing as well as quality processes, consistency in volumes and guaranteed timely deliveries have built KAY2 TMT, the bars of selection for most construction firms in India.
Difference between kamdhenu TMT and NXT:
Kamdhenu Nxt has acquired the angular double rib design having attained all the rights to manufacture, market as well as sell the remarkably created double rib TMT bar. Due to homogeny and critically designed ribs, fatigue strength along with ductility of Kamdhenu Nxt is much superior to common steel bars.